Taking care of our leather shoes is natural for us, we were raised that way. I remember growing up that I had to polish my shoes at least once a week when I was in grade school. Back in the day, since there was no Internet or YouTube to use as reference, we had to rely on the instruction of our elders on how to polish. Some advice are more helpful than others and usually, unless given personal instruction, we are left to figure things out for ourselves. I have to admit that I never excelled in shoe shining. During ROTC, I would always try to do fire shining to achieve that gloss finish for my combat boots to no avail. After asking around from the upperclassmen, they recommended spit polishing and I tried that also but have not been able to achieve the same amount of shine that they have on their boots. Oral instruction is after all, inferior to getting actual experience or at least watching the actual process while being instructed. From here we try for ourselves and practice until we get the process right or we find our own way.
I started learning about proper leather shoe upkeep last year after I stumbled upon a video while doing research. I didn't know about Yuya Hasegawa san at that time but was amazed by the video "Shoe Shine Like a Boss". Here is the video:
Back then I didn't pay attention to who the man was doing the polishing in the video but a few months after, I found another video which really caught my attention. It was the official video of Brift H, the famous shoe shine bar in Japan.
It was the first time I've heard about a shoe lounge and was inspired by it. Hence the effort last year to create cobbler services based on shoe maintenance and restoration. What inspired me was the way Hasegawa san was so passionate with his craft that he was able to create his own method of shoe polishing which earned him the title of World Champion of Shoe Shining last year.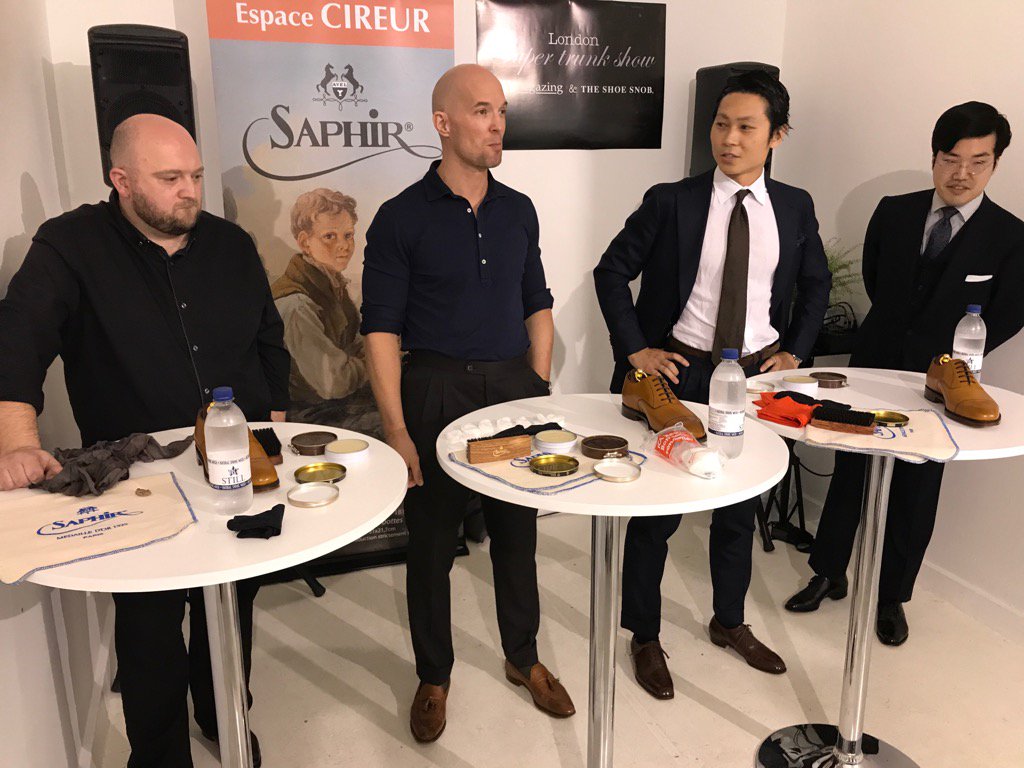 Before his "The Armoury" video where he detailed his method was released, I tried to research his method and found one published magazine article where the method was translated. Here are the steps as detailed in that article I found:
Remove the shoe laces
Clean insides with denatured alcohol
If the outsoles are leather, polish edge with #285 emery paper
Apply water based dye on sole edges
Remove dust from upper via brush, insert shoe trees
Strip down shoes using cleaner, remove wax and some base paint
Apply and massage shoe cream with fingers, massage into the creases
Apply neutral cream on the tongue to prevent color migration onto the lining
Use brush to permeate cream into the leather pores, use pressure from spring bounce
Buff the shoe with cloth to remove excess creams
Drop water, if repelled, the shoe has absorbed the cream properly
Apply wax generously on the shoe tips and edges using fingers
Apply wax with water onto the cloth, water acts as a lubricant for the wax, alternating between with and without wax (just water) on the cloth with elbow grease
Polish in a circular motion; apply around the shoe in different areas to allow airing time as you work on other areas
Check for wax permeation by dropping water and seeing if the water repels
Add a little water on the brush and buff entire shoe
Rub toe box and heel with water on clean cloth, vertical motions create a smoother and smarter finish
Apply oil on the sole, this will add water resistance
Some of the materials used in Hasegawa san's method is not available here locally, such as his leather cleaner and sole oils. The creams and waxes that he used are Saphir, which is quite expensive and is not that accessible. I will be publishing a video using our locally available materials which I have tested and worked well so far with our local leathers while adapting a bit of this method for a quick polish for the regular shoe owner.
Shoe shining is a craft in itself. The one year I spent studying how to polish shoes have taught me that, as with most things, different situations call for different materials and sometimes a different approach. Hasegawa san's method is a great foundation to build upon your own method. Majority of us want our shoes to look clean and smart, and going through the basics (I will explain this further next time) and having a sound understanding of basic leather care will go a long way to extending the life of our shoes, from a simple Black Wing to high end brands such as George Cleverley and Berluti.